Some of the links below are affiliate links, which means we will earn a commission on the products or services you purchase using the links. There is no additional cost to you and the earnings help keep this website running. Read the Affiliate Disclaimer for more information.
Mather Campground is one of three campground options inside Grand Canyon National Park South Rim. Desert View Campground and Trailer Village are the other two options.
With over 300 no hookup campsites for RV and tent camping, Mather Campground offers prime camping inside the national park year-round.
Mather Campground Review
Watch the video review of Mather Campground or keep reading for more information.
Mather Campground was our first camping experience inside a National Park. If you're able to get a reservation, I would highly recommend spending at least one night camping inside Grand Canyon South Rim.
Driving Through Desert View Campground
We drove into Grand Canyon National Park on Saturday from the Desert View entrance and immediately spotted the "Campgrounds Full" sign at the campground.
The Park Ranger informed us the first come first served campground was full by 11am. We drove through Desert View Campground anyway to check it out for reference.
After the first turn we understood why the campgrounds have a 30′ limit. The tight turns and low hanging tree branches were a challenge in our 29′ motorhome. We did spot a 40′ RV at one of the campsites and I can't imagine how they got in or how they planned to get out.
After driving through Desert View Campground we made our way to the Grand Canyon Visitor Center to check out Mather Campground.
Getting a Campsite Reservation
There are three ways to make a reservation at Mather Campground.
When we walked up to Mather Campground, we were greeted by the same "Campground Full" sign. However, after speaking to the rangers, we were able to get a two night reservation in two different sites.
Don't let the "Campground Full" sign stop you from getting a campsite. Apparently people can cancel up to 6pm the day of their reservation. The campground books months in advance. Reservations are highly recommended.
Camping at Mather Campground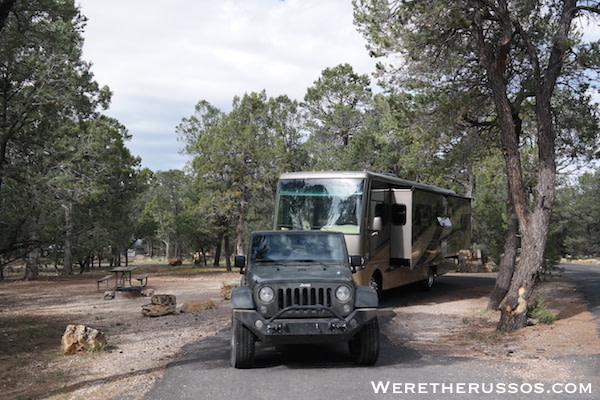 The first night we camped in site 188. The second night we camped in site 185. Both pull thru sites had more than enough room for a 29′ Class A motorhome and tow vehicle. Besides light road noise, the campground was very quiet and peaceful.
Generator hours: 7am-9am, 6pm-8pm daily. We did run our generator the full four hours on our second day due to heavy clouds. The portable solar panel we have is great when there is full sun, but not on cloudy days.
Each site comes with a picnic table and fire ring. Keep in mind there are no RV hookups at Mather Campground.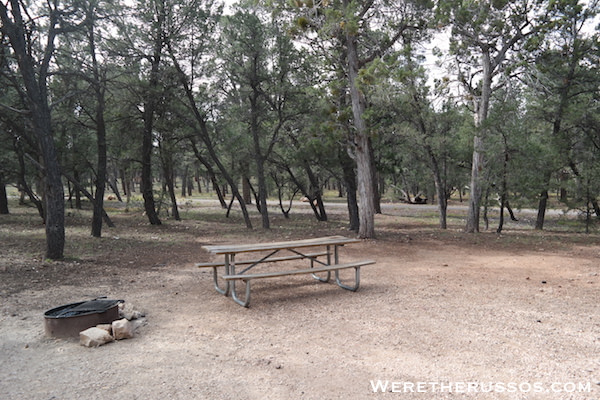 Since the sun was shinning our first day at the campground, we took advantage of the beautiful weather by cooking outside.
Keep an eye out for wildlife roaming through the campground. We saw many deer and elk grazing and relaxing around the campsites.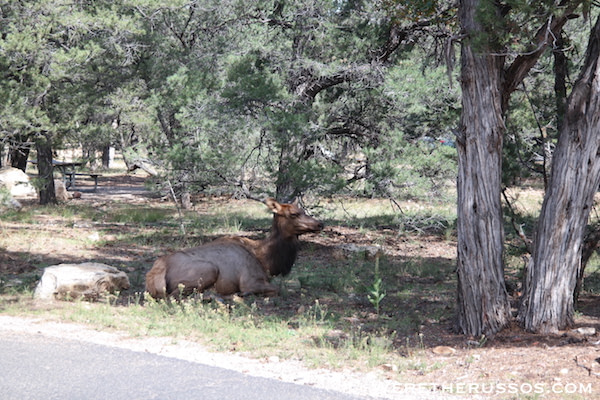 Bathrooms with running water are scattered throughout the campground. Each one has an outdoor sink in the back for washing dishes.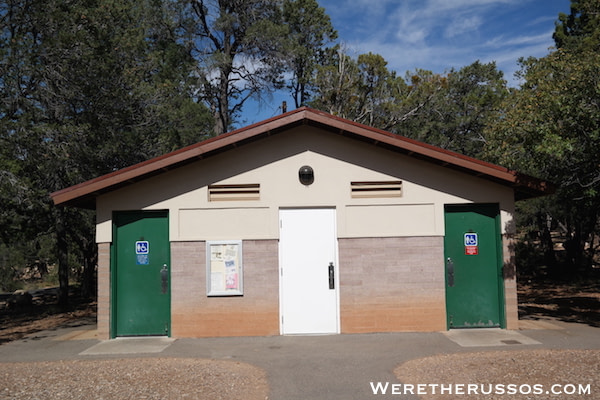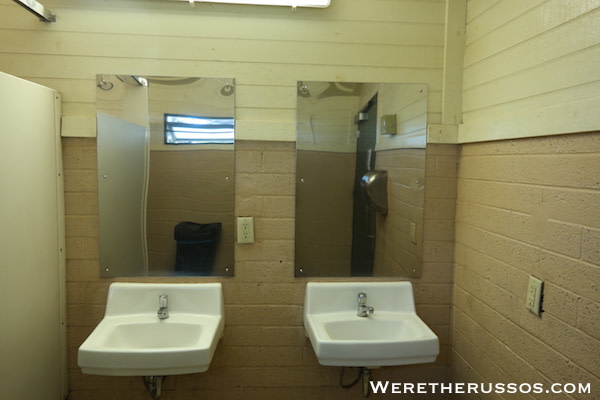 At the entrance to the campground is a free dump station for campers. Showers, laundry and wifi are available inside the main building.
The General Store is walking distance from the campground. The prices are quite high so stock up before arriving at the park. Fresh produce selection is also very limited.
Enjoy being unplugged. Cell phone coverage is very limited at the campground. To make a phone call we walked over to the General Store.
Pets are allowed at Mather Campground and must be kept on a leash. Leo enjoyed his afternoon naps at our campsite.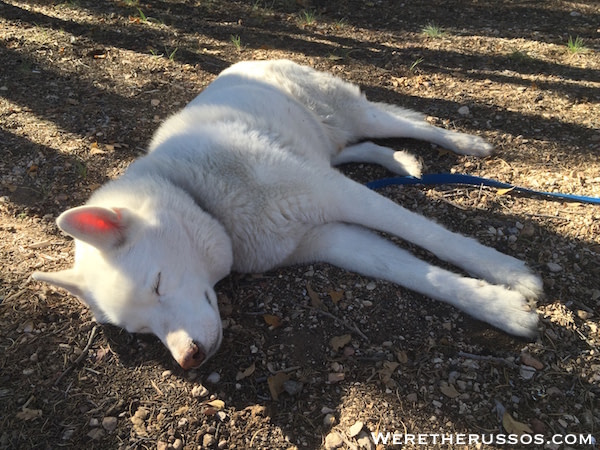 Overall, we enjoyed camping at Mather Campground and look forward to going back the next time we visit the Grand Canyon.
Notes:
$18 dry camping
Max RV limit is 30′
Generator hours enforced
Pull thru and back in sites
Dump facility on site
Restrooms, showers and laundry
Dog friendly
No AT&T cell service
For free camping outside the Grand Canyon, check out dispersed camping on Forest Road 688.
Planning to take your RV camping adventure in Hawaii? Read about our Maui RV Rental and Maui camping experience.
Editor's Note: This post was originally published on December 3, 2015 and has been updated for comprehensiveness.