Some of the links below are affiliate links, which means we will earn a commission on the products or services you purchase using the links. There is no additional cost to you and the earnings help keep this website running. Read the Affiliate Disclaimer for more information.
Big Bend National Park in Texas has been on our list of places to visit for several years and we finally checked it off our list this year. Joe and I spent four days camping in Big Bend National Park in our 4×4 truck camper and in this post, I share our RV trip itinerary which includes camping in Big Bend National Park, favorite hikes, exhibits to check out along with tips for planning your Big Bend National Park camping trip.
See what it's like exploring and camping in Big Bend National Park in the video above or keep reading. All the campgrounds and activities highlighted in the video are included in the post as well as additional information and tips Big Bend.
Camping in Big Bend National Park
There are four developed campgrounds in Big Bend National Park. Three are operated by the National Park Services: Cottonwood Campground, Chisos Basin Campground and Rio Grande Village Campground. The fourth campground is Rio Grand Village RV Park which is operated by the park's concessioner and the only full hook-up RV park in Big Bend National Park.
Big Bend National Park Campgrounds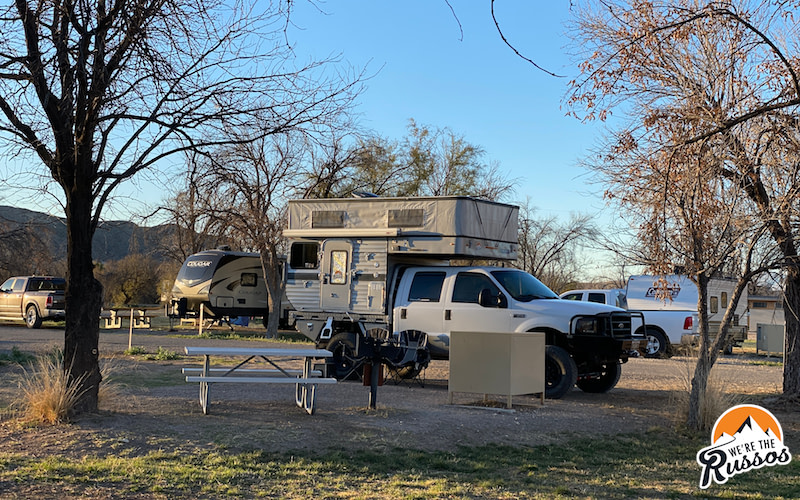 During our trip to Big Bend National Park, we camped at Rio Grande Village Campground for one night and Chisos Basin Campground for two nights. We wanted to stay at Cottonwood Campground near Santa Elena Canyon but it was fully booked.
To check for campground availability and to make a reservations, visit Recreation.gov. These links below will also take you directly to the booking page for the three NPS managed campgrounds in Big Bend National Park.
Note: camping reservations were required during our visit to Big Bend National Park. Be sure to check the park website for the latest information on campground policies.
RV Dump Station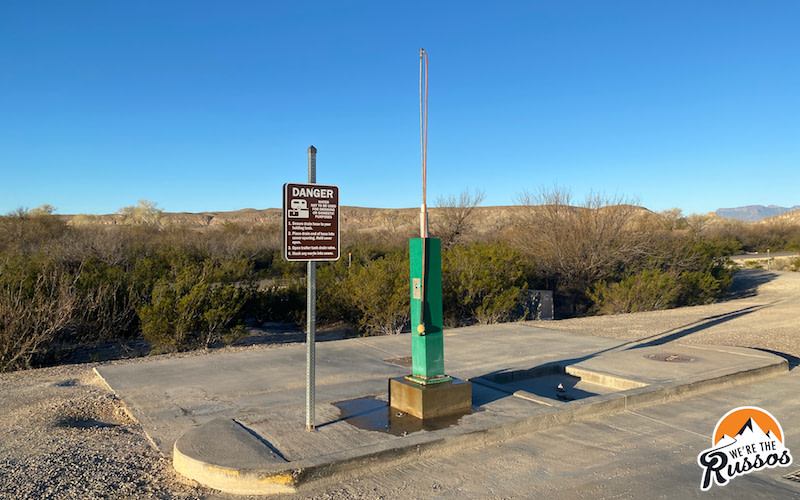 Chisos Basin Campground and Rio Grande Village Campground both have an RV dump station. There is no RV dump station at Cottonwood Campground.
Drinking Water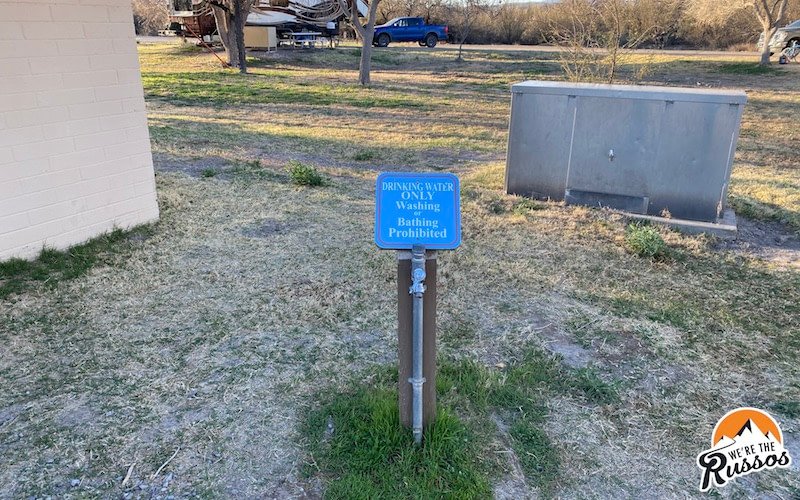 Drinking water spigots are located throughout the campgrounds and at the visitor centers. During our visit there was a five gallon per person per day limit on the drinking water.
Campground Generator Zone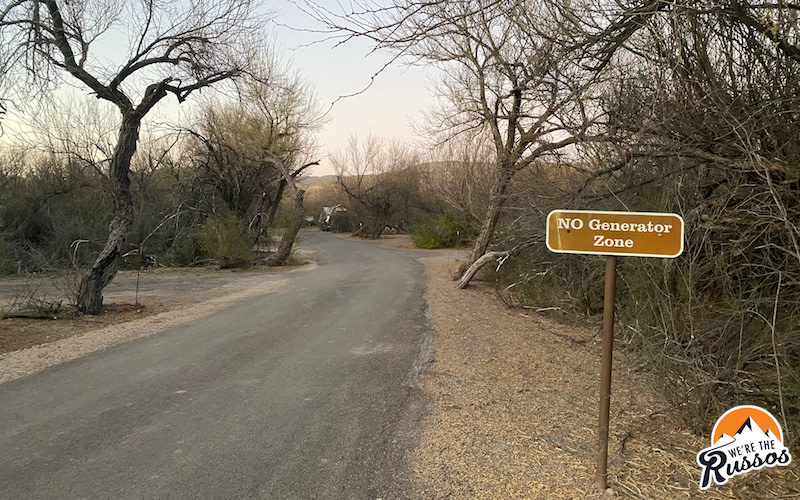 If you're camping in Big Bend National Park be aware of the generator zones at the campgrounds. The easiest way to see which sites are in the generator zone is to open the campground map on the NPS website. Below are links to the map for each campground.
We camped in the generator zone at Rio Grand Village Campground and in the no generator zone at Chisos Basin. While the early morning generator noise did wake us up early, it didn't keep us up all night like the crying baby in the no generator zone. We were glad to have campground reservations inside Big Bend and didn't have to drive out of the park each day.
Primitive Roadside Campsites
Backcountry camping is also available inside Big Bend National Park. These are considered primitive roadside campsites and "will not accommodate large RVs and trailers" according to the NPS website. You can book these primitive roadside campsites through this page at Recreation.gov.
On our second day, we drove past a few primitive roadside campsites along Old Ore Road and look forward to booking one of these sites for our next Big Bend camping trip.
These sites simply offer a place to camp for the night. There are no amenities of any kind, similar to dispersed camping in national forests or dry camping/boondocking. That means pack it in and pack it out. Learn how you can minimize your impact at Big Bend National Park.
RV campgrounds Near Big Bend National Park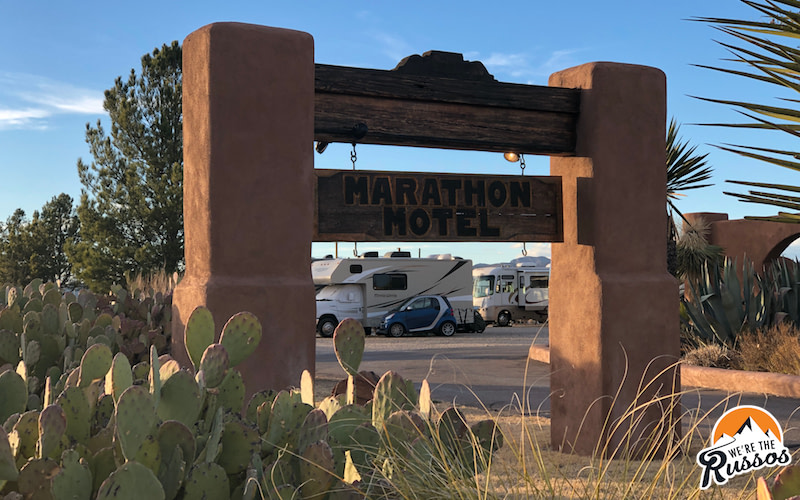 If you're unable to reserve a campsite inside the park, there are several RV campground options near Big Bend National Park. Below are a few we had as backups in case we were unable to get a campsite reservation inside the park.
We usually use Allstay Camp & RV to locate nearby campgrounds and reference the reviews on Campendium. Read our Allstays Review.
We also found Get Lost Tours as an overnight option through our Harvest Hosts membership. Based in Terlingua, Texas, Get Lost Tours offers several tour options, one of which is the six hour Big Bend National Park guided tour complete with a little off-roading. Learn more about Harvest Hosts.
Cell Service in Big Bend National Park
Since we work remotely, cell service is always something we keep an eye on. Although there is WiFi at the visitor centers, we were pleasantly surprised to have 3G and LTE Verizon service at Chisos Basin Campground. The data was good enough to stream videos and post content to our social media channels.
We were also able to get 3G service on most of the drive to Santa Elena Canyon and at the trailhead. However, there was no Verizon service in the Rio Grande Village area, including the campground.
For more information on staying connected on the road, check out our post Internet for RVers.
4 Day Big Bend Trip Itinerary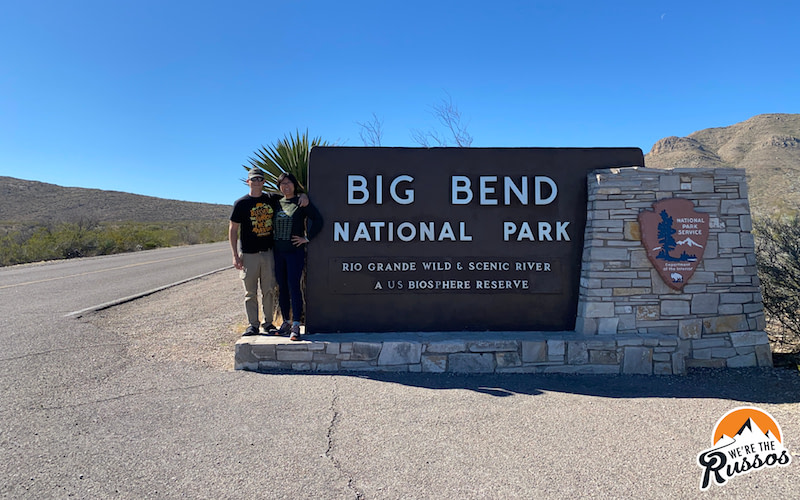 This is an outline of our four day Big Bend National Park trip itinerary. It includes where we camped, exhibits we checked out and hikes we went on. We were there February 5th through February 8th which ended up being a great time of year to visit the park. I hope you find this information helpful in planning your Big Bend camping adventure. And don't forget to watch our Big Bend National Park video.
Day 1: Marathon to Big Bend National Park
We started the day in Marathon, Texas and drove south on highway 385 to Big Bend National Park. Points of interest and hikes included:
Fossil Discovery Exhibit
Panther Junction Visitor Center
Dugout Wells Exhibit and Desert Nature Trail
Boquillas Canyon Overlook
Boquillas Canyon Trail
Rio Grande Village Nature Trail (for sunset viewing)
Night 1 Camping: Rio Grand Village Campground
Day 2: Rio Grande Village to Chisos Basin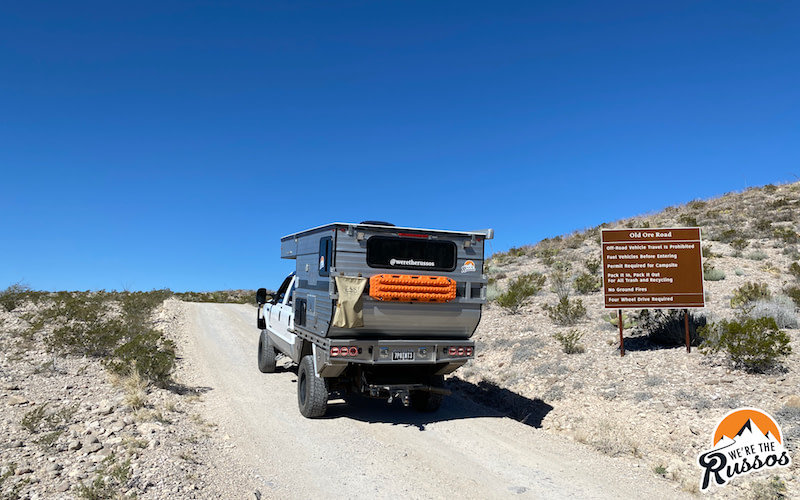 On the second day, I woke up early to check out River Spur Trail which goes down to the Rio Grande River. It was a very peaceful morning stroll and a great spot for morning meditation.
After we packed up camp, we went for a drive on Old Ore Road to Ernst Tinaja Trail. This ended up being one of the highlights of our Big Bend camping trip. Make sure to check the NPS page on Old Ore Road conditions before taking your vehicle.
After spending several hours on the primitive road we made our way to Chisos Basin. There was road closure during our visit, but we were able to miss the delays and traffic by arriving in the late afternoon.
Night 2 Camping: Chisos Basin Campground
Day 3: Chisos Basin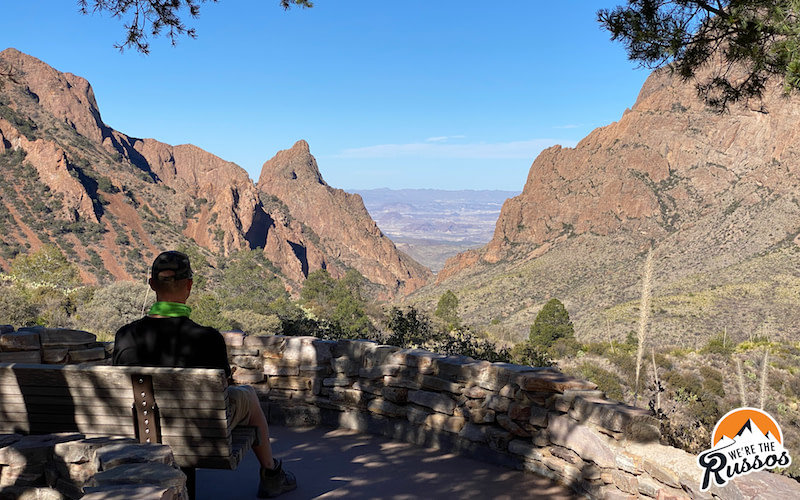 With several trails starting in Chisos Basin, we were glad to have a full day in the area. Points of interest and hikes included:
Basin Store (for basic supplies and breakfast burritos)
Window View Trail
Window Trail
Night 3 Camping: Chisos Basin Campground
Day 4: Chisos Basin to Santa Elena Canyon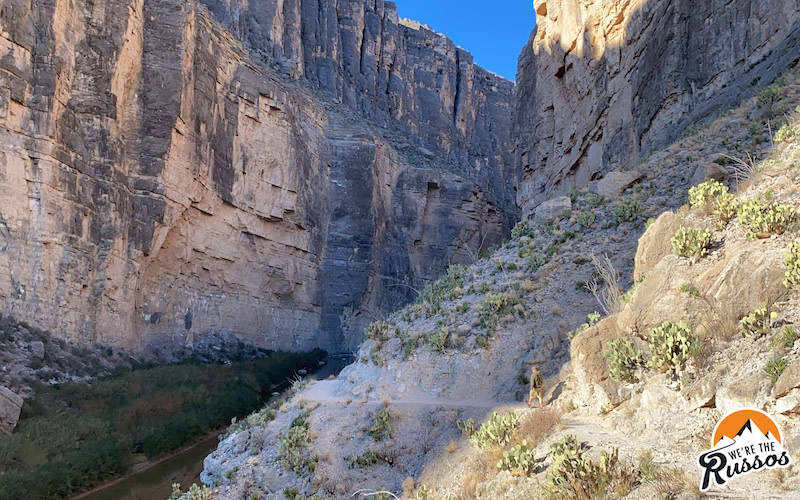 With this being our last day at Big Bend National Park, we woke up early and drove to Santa Elena Canyon. Although we missed a lot of the trails and exhibits on this side of the park, we did get to hike the Santa Elena Canyon Trail and stop in at the Castolon Visitor Center.
Ideally, we would have preferred five to seven days at Big Bend National Park, but this was a great introduction and we can't wait to go back.
Thank you for reading and hope you have an adventure filled camping trip to Big Bend National Park!